Balancing Diabetes and Breakfast
What you can do to enjoy the most important meal of the day, while watching your blood sugar.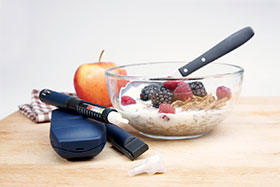 For those with diabetes, making smart food choices is key to managing blood sugar levels. Since your body doesn't produce enough insulin or is resistant to its effects, meal planning takes on a whole new meaning. When waffles, bagels, and donuts are a thing of the past, what other breakfast options are there?
Plenty. You just have to choose wisely.
Since so many favorite breakfast foods are high in carbs and added sugar, it can be hard to find healthy options when living with diabetes. If you struggle with what to eat each morning, here are some diabetic-friendly foods to start your day.
Eggs and Toast
For a great protein and fiber combination, choose eggs and toast. Just take care how you cook your eggs. Whether you like them scrambled, fried, or hard-boiled, avoid adding butter or lots of salt. Spoon on some salsa if you need extra flavor.
Pair your eggs with a slice of whole-grain toast. Spread on some nut butter, low-fat butter, or sugar-free preserves and dig in.
If you can't tolerate eggs without a little bacon or sausage, choose turkey bacon, Candian bacon, or turkey sausage.
Shake
When mornings are rushed and you need to eat on the run, try a healthy breakfast shake. Mix skim milk or plain nonfat yogurt with fruit and ice. To make it easy, keep frozen fruit in the freezer. For extra protein add nuts, nut butter, or a protein powder.
Oatmeal
High in both fiber and protein, oatmeal makes an easy and healthy breakfast for diabetics. As an added perk, you'll stay full until lunch time rolls around. To make oatmeal, simply add water or low-fat milk to half a cup of dry oatmeal and microwave for one minute. Berries, dried fruit, nuts, seeds, or cinnamon are healthy topping options.
Burrito
Looking for flavor and something to keep you feeling full until lunch? Make a breakfast burrito. Start by scrambling one or two eggs with green peppers, onions, or spinach. Add some salsa and low-fat cheddar cheese and wrap it all up in a warmed whole-wheat tortilla.
Cereal
Diabetics can eat cereal but you have to be picky. Store shelves are lined with breakfast cereals that make healthy claims, but are filled with added sugars, empty carbs, and artificial colors and flavors. Be particular about your breakfast cereal and go for cereal that's high in fiber, low in added sugar, and made with whole grains.
Fruit and Nuts
For breakfast on the go, keep fruit and nuts on hand. Berries, apples, pears, and oranges are examples of low-glycemic index fruits. The healthy fats and fiber in nuts will help fill you up and give you energy. A handful of fruit or healthy nuts will go a long way toward keeping your blood sugar levels nice and level.
Greek Yogurt
In the mood for something cool and creamy? A cup of Greek yogurt could be what you're craving. Choose plain, low-fat Greek yogurt for a low-carb, high protein breakfast. Mix in a few berries for sweetness.
Beverages
Diabetics would do well to drink low-calorie or zero-calorie beverages to prevent blood sugar fluctuations. The safest drinks at breakfast include water, unsweetened coffee, and unsweetened tea (black, green, or herbal). V-8 juice, tomato juice, or low-fat milk can be enjoyed in moderation. While fruit juice is a popular breakfast beverage, it's high in carbs and should only be consumed in small amounts. If you do choose to drink juice, choose 100-percent fruit juice with no added sugar.