The Power of Active Rest
It may sound contradictory, but active rest will help you get more out of your workouts.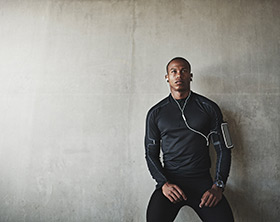 What do you typically do after completing a challenging set of strength-training exercises? Do you slowly walk it off, stand around for a few minutes, or have a seat to watch television as you get ready to do another set? You've been taught to rest three to five minutes between sets to give your muscles time to recharge, but studies show your workouts may be more productive by continuing to move your body between sets.
Known as active rest, this technique doesn't allow you to waste time sitting around during your workout. Instead, you keep moving by stretching, doing exercises that work different muscles, or practicing proper form. Here's why active rest is beneficial and how it's done.
Why Do Active Rest?
For best results, it's recommended you give your muscles time to rest between sets of strength-training exercises. This allows them to recover from the heavy lifting and prepare for more heavy lifting. Active rest allows you to rest the muscles you just worked while keeping your body moving. During active rest you can focus your energy on other forms of exercise or movement. This means you keep your heart pumping hard during your entire workout.
Active rest between sets of exercises means you're taking advantage of every minute of your workout. Maybe you set aside 30 minutes to hit the gym with your trainer. If 10 of those minutes are spent sitting around, then you're missing out on valuable time you could be burning more calories, building more muscle, or getting more fit.
Stretch It Out
Flexibility exercises are often neglected, but they're an important part of fitness. You could benefit from taking the time between sets to do a few stretches. Stretching not only makes you more flexible, but it also increases circulation, which delivers oxygen to your muscles and helps remove lactic acid build-up to decrease muscle soreness. Be sure to stretch all muscles, but especially the muscles you just worked and the ones that feel tight.
Try New Exercises
Instead of sitting on the bench waiting for your next set of bench presses, move on to another exercise. Work with your trainer to create a circuit training plan so you can work different muscle groups at different times throughout your workout. Move from an exercise that works your legs to one that works your arms to one that works your chest and so forth. This gives your muscles the rest they need between sets while keeping your heart rate elevated.
If the majority of your workout is spent doing compound exercises (ones that work multiple muscle groups at once), spend your rest time on isolation exercises that focus on one muscle group at a time.
Don't want to move to another set of exercises just yet? You can still keep your body moving. Do some jumping jacks or burpees, jump rope, or jog in place.
Focus on Form
Proper form when lifting is essential to avoid injury and get the most out of your workout. The way you stand, hold the weight, move your body, and breathe all play a part in proper form. Use the few minutes between sets to zone in on your form for the upcoming exercise. With lower weights, stand in front of a mirror or have a trainer assist you with practicing proper form. That way, when you go back to pushing heavy weight, you're assured of good form andthe best results.