Help for High Triglycerides
What to eat and not to eat in your fight against high triglycerides.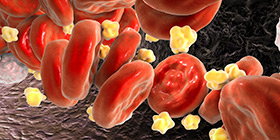 High triglycerides is a common condition that comes with some serious health risks, yet many people don't know much about it. So what's the deal?
Triglycerides are one kind of fat in your blood (cholesterol is another). When you consume more calories than you use as energy, those leftover, unused calories turn into triglycerides that get stored in fat cells. When your body needs energy, it turns to your stores of triglycerides.
You're more likely to get high triglycerides when you eat more calories than your body burns for energy and if you eat a lot of carbohydrates. Living with high triglycerides contributes to the thickening and hardening of your arteries, which put you at an increased risk of heart disease, heart attack, and stroke. High levels can also damage your liver and pancreas, while serving as a sign of other health conditions such as metabolic syndrome, obesity, type 3 diabetes, or hypothyroidism. Because of these risks, a high triglyceride diagnosis should be taken seriously.
While medications can help lower triglycerides, lifestyle changes go a long way to prevent the need for medication. As you make dietary choices, here's what you should and shouldn't eat in your effort to lower your triglycerides.
Sugar
As if you needed another reason to avoid it, sugar is a simple carbohydrate that increases triglycerides. This includes all kinds of sugar. Sugar-filled beverages like soda, fruit juice, sweet tea, sports drinks, sweetened coffee, and lemonade all turn into triglycerides in your body. Cakes, cookies, candy, and pastries are also high in added sugars and should be avoided. And remember—sugar goes by many names, so read ingredient and nutrition labels and know what you're putting in your body.
Alcohol
Even small amounts of alcoholic drinks have a big effect on triglyceride levels. Therefore, beer, liquor, spirits, mixed drinks, and wine should be avoided completely by those with high triglycerides and limited by those with borderline high levels. Have your triglycerides in check? Keep them that way by not overdoing the booze.
Starchy Vegetables
Foods high in starch (carbohydrates) are quickly turned into triglycerides in the body if not used for energy. Some vegetables are considered starchy and should be limited. These include corn, peas, beans, squash, and potatoes. But don't let this stop you from eating vegetables altogether. While avoiding starchy ones, eat as many other vegetables as you want. Asparagus, Brussels sprouts, broccoli, cauliflower, cabbage, spinach, tomatoes, mushrooms, onions, celery, and zucchini are safe options, so chow down!
Refined Carbohydrates
Too much of any type of carbohydrate will increase your triglycerides, but simple carbs made with refined grains are especially harmful. For this reason, you'll do well to avoid pastas, breads, rice, crackers, and cereals made with refined, white flour. Instead, look for these foods that are made with 100-percent whole grains.
Saturated Fats
To help reduce high triglycerides, foods high in saturated fats should be limited or avoided. You'll find saturated fats in meat, processed meats, high-fat dairy, butter, cheese, coconut products, and palm oil. To keep your triglycerides low, use plant-based oils such as olive oil or canola oil. Eat more fatty fish and chicken rather than meat. When you eat beef or pork, choose lean cuts.
Fruit
Since most fruit is high in natural sugars, people with high triglycerides should eat it in moderation. The recommended daily amount of two to three servings of fruit a day is safe and healthy, but overdoing the amount of fruit you eat could raise your levels. Dried fruits such as raisins, dates, and dried apricots are especially high in sugars and should be limited to only two tablespoons a day.